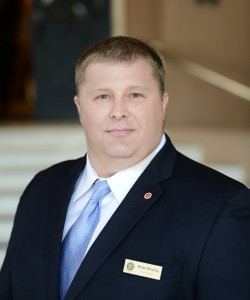 Brian Smalley
TCH President, 2016 – 2017
October 2016
Message from Brian Smalley
2016-2017 TCH President
Happy October everyone,
This year has gotten off to an excellent start for the Transportation Club of Houston. Our September luncheon featured Tommy Browning, CP and we had a sold out event at St. Arnold's Brewery last week. Our fall lineup continues strong with Jason Seidl and our golf outing in November. This is followed by our annual Toys-For- Tots USMC Christmas Gathering in December. The spring lineup is just as engaging so make sure you keep checking our website for details.
We are continuously striving to provide the best schedule for our members. If you have suggestions or feedback please feel free to email any of us on the Board and we will do our best to incorporate them into the program. Additionally we encourage you to participate actively in the club and have many committee positions available. If you are interested in actively participating please email me directly. I will work with you on finding the committee that best suits your interests.
We have purposefully increased our interaction with the next generation of transportation and logistics professionals. Last year we created a student committee designed to facilitate the interaction between TCH and students in the Greater Houston Area. We were able to increase the amount of scholarship money that was awarded to students. The next step is to start an internship program to facilitate internship programs in the community. Let us know if participation in this program is of interest to your organization and we will involve you right from the beginning.
We are entering the 2017 Scholarship Season. If you have a student that could use a helping hand, or if you have a helping hand that a student could use, contact us. We have a goal of raising and distributing a minimum of $10,000 to students at the end of the year. This is a big goal for us and represents a 100% increase in scholarships from past years. Your participation is vital to achieving this. If you are interested in being a sponsor please see our website for more details.
I would like to give a special thanks to all of you for helping us have such a wonderful start to the 2016/2017 season. To our invited guests and speakers, thank you for participating and giving our members such great events. To our sponsors, thank you for your generous support of both our events and our students. And a huge "Thank You!" to our members for the continued support and involvement from all of us on the Board of Governors. We hope that this club provides value to you both personally and professionally.
My very best regards,
Brian Smalley
President, Transportation Club of Houston
2016-2017